The NT's largest shopping centre's plan to make it safe after issues with crime and anti-social teens
---
November 21, 2023
The owners of the NT's largest shopping centre plan to spend millions making it safer after months of being targeted by criminals and anti-social teenagers. See what's in the works.
Tens of millions of dollars will be spent improving layout and security at Casuarina Shopping Centre in response to the area becoming a hot spot for criminals and anti-social teens.
Casuarina owners Sentinel Property Group plan to build a new three-storey carpark, relocate the travelator and stairway from the carpark and pioneer a new model for selling takeaway alcohol.
Plans lodged with the Development Consent Authority also show anchor-tenant Woolworths wants to open a NT-first direct-to-boot collection service at the centre.
The redevelopment could cost Sentinel up to $20m, with work hoped to begin during the 2024 dry season and wrapping up by 2025. The plans have the support of the NT government.
Sentinel owner Warren Ebert said the redesign and new configuration was intended to make Casuarina safer for shoppers and staff.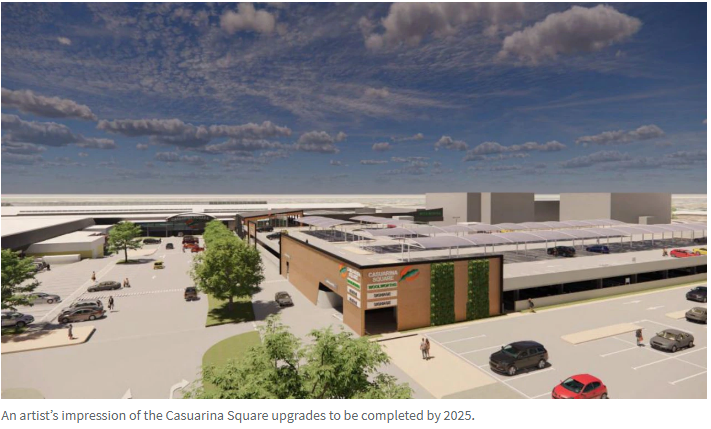 Casuarina management has already taken significant steps to improve customer and staff safety at the centre including extra security guards, adding dogs to its security team and temporary bans on students from a number of schools in the area.
Mr Ebert said the average cost of security at interstate shopping centres was about $7 per metre, but at Casuarina it was $42 per metre, costing a total of about $2.5m a year.
A plan by previous owners GPT to relocate the bus terminal from Bradshaw Terrace to Trower Road has been scrapped because it would not reduce alcohol access for problem drinkers.
CasStay, a four-storey, 48-room complex planned for Scaturchio Street in the CasCom carpark, will be relocated to another spot within the precinct.
The reconfiguration will be the first major upgrade since Sentinel Property Group bought Casuarina in early 2022.
The $418m sale price made it the largest commercial property sale in the NT's history.
Sentinel has long-term plans to develop a town centre at Casuarina Square which will include worker accommodation, a commercial precinct and entertainment and social hubs.
Casuarina Square, which is in the middle of 50th birthday celebrations, has 200 shops and hundreds of people travel to work there every day.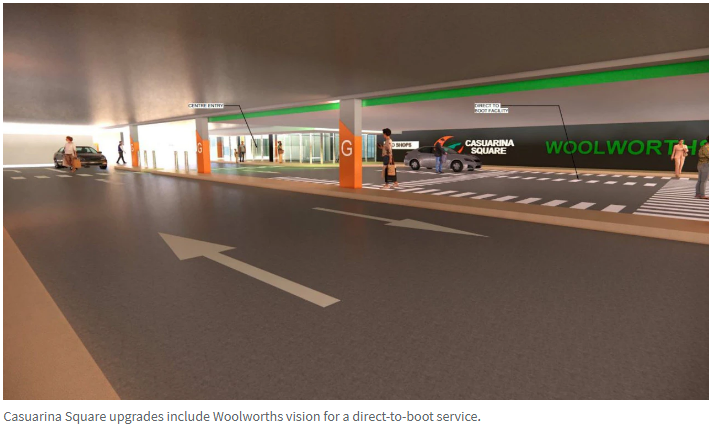 Key changes will include reconfiguration of the Trower Road entrance to allow for a new upper-basement carpark extension.
Existing pavements will be removed and replaced and landscaped and the internal travelator and stair from the basement carpark into the centre will be moved.
The ground level basement will also be reconfigured with demolition of existing exit stairs and landscaping to be demolished to allow for the new Woolworths loading dock extension.
Other stairs will be demolished and the upper basement entry will be reconfigured to facilitate a new carpark layout.
The redesign will mean the creation of a number of new tenancies at the ground level near Woolworths and new exteriors at the centre.
The new layout for bottleshops will include a display carousel where face-scanning technology will allow shoppers to choose alcohol and pay without grog being on display.
Bottleshop employees will then bring the booze to the purchaser when the sale is finalised.
Plans to upgrade the Quarter and a family-focused microbrewery are not included in this application.
New Police Minister Brent Potter met with Sentinel managment and said crime and anti-social behaviour at Casuarina and elsewhere would not be tolerated. "All Territorians deserve to feel safe when they go shopping," he said.
"I have recently been on ride-alongs with NT Police and have seen the work they are doing around the shopping centre, which includes patrols of the bus interchange and underground car park on a regular basis."
Article: NT News, Camden Smith (16 November 2023)